HOME
Limited to 100 copies of this
Signed Edition CD Single.
Remastered by Kurt Reil at The
House of Vibes, Highland Park, NJ
$11.99 includes shipping to U.S. only.
Release Date: June 18, 2021.
To order, go to www.paypal.me/raypaulmedia


1. Tears/Little Darlin'


2. Won't You Take A Ride?



Available on iTunes, Amazon, CD Baby, Spotify & more beginning June 18, 2021.
1. The Sun Sets Over London Town by RAY PAUL

The latest recording by RAY PAUL, "The Sun Sets Over London Town," is from the January 2020 release "For The Record: A Tribute To John Wicks," on Kool Kat Musik. Written by John Wicks (The Records) and Produced by Jamie Hoover (The Spongetones).
TRACK LISTING (Samples):


1. I NEED YOUR LOVE TONIGHT by RAY PAUL


2. HOW DO YOU KNOW? by RAY PAUL


3. HOLD IT by RAY PAUL


4. I LOVE IT (BUT YOU DON'T BELIEVE IT) by RAY PAUL


5. LADY BE MINE TONIGHT by RAY PAUL


6. BROKENHEARTED by RAY PAUL & RPM


7. KEEP IT CONFIDENTIAL by RAY PAUL


8. LOVE ME by RAY PAUL


9. STANDING ON THE EDGE OF GOODBYE (LIVE)

by RAY PAUL & RPM


10. OPEN UP YOUR DOOR (LIVE)

by RAY PAUL & RPM


NEW RELEASE OUT MAY 17, 2019!
$13.00 at Kool Kat Musik
ORDER CD
Photo by Steve Piper
"Ray Paul has been a player in the power pop scene for more than 40 years, but 'Whimsicality' is most definitely the finest collection of songs he's ever recorded. Tunes such as 'You Don't Have To Prove Your Love' & 'A Fool Without Your Love' (to name two faves) both take their cues from The Beatles circa 1965 without sounding stuck in the past. The first great power pop record of 2016!" .....John Borack, Goldmine Magazine
Former Boston and L.A. power pop pioneer RAY PAUL returns with his first new release since his critically acclaimed career compilation, "The Charles Beat," in 2000. Guest appearances by CLEM BURKE (Blondie), EMITT RHODES, KRISTIN PINELL REIL & KURT REIL (Grip Weeds), TERRY DRAPER (Klaatu), GAR FRANCIS (Doughboys) and WALTER CLEVENGER. The album features his fiery, visceral brand of original Beatlesque pop, plus updated covers of "PRETTY FLAMINGO", "TEMPTATION EYES" & McCARTNEY'S "OH WOMAN, OH WHY" which are sure to please. Recorded in L.A., Toronto and NJ, the production and level of performances achieve high standards. Rock 'n' Roll in Boston in the '70's was a vital place and RAY PAUL & RPM were a big part of it. Recently, he appeared in the EMITT RHODES documentary film "THE ONE MAN BEATLES".
TRACK LISTING (Samples):
1. I Love It (But You Don't Believe It)
2. You Don't Have To Prove Your Love
3. Pretty Flamingo
4. A Fool Without Your Love
5. In My World
6. Jeannie
7. Temptation Eyes
8. All You Ever Wanted
9. Oh Woman, Oh Why
10. 'Til The Day After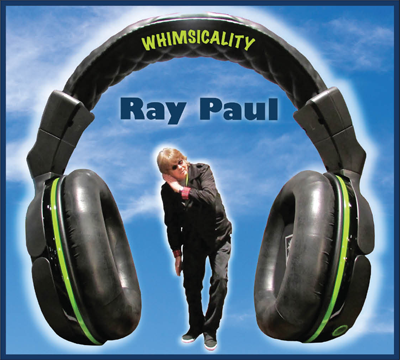 "It's nothing less than a sweet gift from heaven
to have a new album to spin from RAY PAUL, whose
long and storied musical history is well documented and beloved.".....Alan Haber, PurePopRadio.com
Available at www.permanentpress.net or on iTunes, CD Baby, and Amazon.com. For all mail orders only, make your check for $14.00 payable to Permanent Press, P.O. Box 26622, Rochester, NY 14626. All mail orders include shipping. For more info, e-mail: raypaul@permanentpress.net

Distributed by MVD Entertainment Group.